Wedding Gift Etiquette - Guide to Thoughtful, Appropriate Gifts
Choosing an appropriate wedding gift can be challenging. Show them how much you care!
Follow these 6 simple guidelines to wedding gift etiquette:
1. Where's the registry?
2. Give a "classic"
3. Cash is OK
4. Spend an appropriate amount
5. Leave the present at the reception
6. Send a gift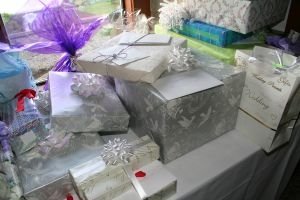 1. Where's the registry?
Even if the couple has a registry, they might not tell you. Why? Some think it feels too much like asking for gifts. A great way to find out is by asking their friends or family members.
Wedding gifts do not need to come from a registry. You can give any appropriate gift.
Tip:
If you decide to use the registry, the earlier the better! If you wait until the weekend before the wedding, the only things left on the list will be small (napkins, dog leash) or enormous (flat screen TV, speed boat).
2. Give a "classic"
"Classics" are:
high quality
won't go out of fashion
can be used around the home, and for a long time
This includes items for the kitchen, bedroom, and living room.
Avoid things that are tacky, because you don't want their kids saying "Mom, that blender is so 2010's!"
Also, save funny or strange gifts for the bachelor/ette party...possibly the wedding shower. Yes, this includes intimates. After all, it would be somewhat strange to get scented bedroom oils from your aunt, or lingerie from someone you hardly know.
3. Cash is OK
Cash is great, accepted anywhere for anything! In some cultures it is THE wedding gift. Ask around if you think this might be the case. Gift certificates work well, too.
If you do give cash, spice it up with a card and hand-written message. Or, create the card by hand. (link to card creating section)
Also, know that cash can be less personal than a specific gift that you pick out. For example, when you visit the couple, they will often still have the gift you gave them and remember it. Cash isn't quite as memorable. But hey, a gift's a gift! Right?
4. Spend an appropriate amount
This is an important one. Friends can often give presents of different dollar amounts. Giving too little might offend your friends, however giving too much might break the bank! :)
Understand that weddings are expensive for the host. The average wedding costs thousands of dollars, often increasing with each guest.
However, it goes both ways. Weddings can also be expensive to attend. Costs can include:
new dresses
new shirts / ties
tux rentals
time off work
travel expenses
wedding shower / other party expenses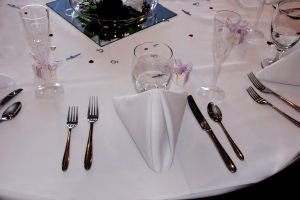 Gifts are not mandatory, just recommended. If there are many expenses or you have fallen on hard times, you can consider giving less or giving no gift.
After all, the most important thing is attending. Bottom line, don't give more than you're comfortable giving.
A good rule of thumb is:
$50 minimum for weddings
$25 minimum for wedding showers
If you bring a date, double it.
5. Leave the present at the reception, or have it delivered to their house
This one might seem obvious...but they can't get your present if you don't leave it for them, or send it to them.
At the reception, look for the gift table - usually near the front by the guest sign-in. Leave a card or tag with the gift so that the couple knows it's from you.
If you're travelling from out of town or purchasing a gift off a registry, it's perfectly acceptable to have it delivered directly to the happy couple.
Also, please don't take the gift to the wedding. I know you're proud of it, but don't awkwardly stand at the back of the church with that new toaster oven.
6. Send a gift
Proper wedding gift etiquette states that if you're invited to a wedding, you should give a gift even if you don't attend.
I'll honestly say that I have not followed this rule to a T, but it does show thoughtfulness even after the big day.
If you send a gift, it should follow the same rules as above.
You'll probably get a thank-you note. If you don't receive a note within a few months, you can ask the couple if they received the gift. It's a great way to stay in touch!
Now choose that special gift!
Now that you're armed with the 6 simple steps for wedding gift etiquette, show them how much you care.
Visit our gift reviews section for feedback on top-rated gifts.
Or, search through our gift questions and answers for tips about wedding gifts. If you don't find the answer you're looking for, please post a new question!
Share Your Wedding Gift Advice
Do you have a useful tip to add to this page? Have you given or received a great wedding gift?

Please share your experiences and help others give better wedding gifts!
What Other Visitors Have Said
Click below to see contributions from other visitors to this page...

Personalized Wedding Frame Not rated yet
For my sister's wedding, I wanted to give her something personal as opposed to just something off her registry. I came across a beautiful wedding frame …