Give a Beer Gift that Satisfies!
Looking for that perfect beer gift for the beer drinker in your life? Read this guide first and your gift will satisfy like their sudsy drink of choice.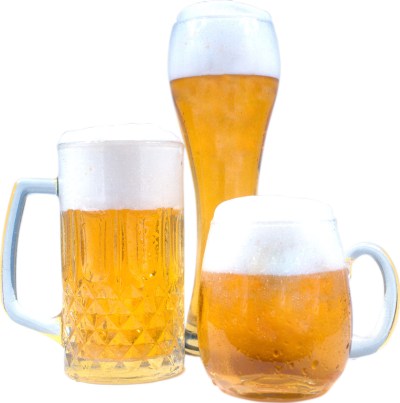 Jump to:
Giving them Beer
It may seem like the perfect gift for beer drinkers, but selecting beer can be challenging. It can also seem a little bit unoriginal. If giving on a special occasion, supplement with snacks or other beer gifts on this page. However, for the "just stopping by" or dinner guest occasion, beer is a wonderful gift!
Beer drinkers' tastes are all over the map. Some like only lighter lagers and turn their noses at beers with more sugar, fruit, or hops. Others prefer hoppier, fuller-flavored beers and wouldn't be caught dead with a regular American lager. Some just like to try new things, and are always up for tasting a new brew.
If you don't know your recipient's preference, ask their significant other or close friends.
For the opinionated drinker, give them one of their favorite six packs – bonus points if it's chilled! Or, give them merchandise supporting their favorite brew, such as:
Hats
Mugs
Bottle Openers
T-shirts
Coolers
For those who like to try new things, give a variety pack from a local brewery. Or, sign them up for a subscription to a "beer of the month" club and they'll get boxes of brews in the mail from around the world. Talk about a gift that keeps on giving!
Bottle Openers
Every beer drinker knows there's nothing worse than grabbing an ice cold brew to quench the thirst, but then realizing you have nothing to open it with!
Bottle openers make great gifts for beer drinkers. The most practical bottle openers have magnets so they can hang on the front of the fridge, close to the source. Some of these fridge openers are wall-mount style with powerful magnets, allowing for beer opening with only one hand. Now that's convenience!
If they've got openers on their fridge already, portable openers always come in handy – and most can be personalized and customized. Find a unique bottle opener for the beer drinker close to you.
Home Brew
Think they'd like to try brewing beer? Learn how to put together a basic beer-making kit.
Do already they brew their own beer? Great! Give them ingredients for more beer!
Most homebrew stores offer "kits" that contain all the ingredients needed to make 5 gallons of beer.
If you're unsure about their brewing ability, get an ale kit that contains extract. This is because partial-mash/extract kits are easier to make than all-grain kits. Ales can also ferment at room temperature, so there are no difficulties having to store 5 gallons of beer in a fridge for 2 weeks.
Liquid yeast is preferred, but must be kept refrigerated until use (which may be difficult to hide as a gift). Dry yeast works well and stores well, so no worries if this is what you go with.
If they bottle their beer, consider having custom labels printed on adhesive paper with a spot for them to hand-label the batch name.
Beer Steins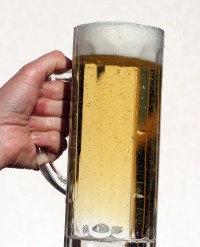 Let's face it – there's little that's more manly than a massive beer stein. Great for display and for drinking, they'll love their special stein.
You can often find the best beer steins at antique or second-hand stores. And they usually only cost a few dollars. Just be careful when buying old pewter (silver-looking) steins, as these may contain lead and could be harmful.
Consider giving them a stein with their fraternity crest and symbols. Or, one with their college coat of arms. Steins can be personalized to display just about anything.
More Beer Gift Ideas
Hopefully you've got a few ideas for that beer drinker on your list. For more ideas, take advantage of our interactive community. Check out our gift reviews for feedback on jewelry given by others.
Or, search through our gift questions and answers for more beer or beverage gifts. If you don't find the answer you're looking for, please post a new question!
Share Your Beer Gift Advice
Do you have a useful tip to add to this page? Have you given or received a great beer gift?

Please share your experiences and help others give better beer gifts.
What Other Visitors Have Said
Click below to see contributions from other visitors to this page...

Beer-of-the-Month membership Not rated yet
I've actually given this to both my boyfriend and my secretary (she loves micro-brews). Basically, it's a pre-paid membership that ships beer to your …