Jar Gifts - Learn How to Make Affordable, Creative, Useful Gifts in a Jar!

Jar gifts - they're useful, fun, and keep on giving! Learn how to turn a jar into a wonderful gift, sometimes without even spending a penny!

Not only will they appreciate your thoughtful gift, but also they can reuse the jar!

Jar gifts are:
inexpensive
personalizes
thoughtful
useful
reuseable (click for jar reuse ideas)
easy!
Learn how to make a jar gift in just 4 easy steps:
Step 1: Find a jar
Step 2: Fill the jar
Step 3: Add a recipe card
Step 4 (optional): Decorate the jar
Step 1: Find a jar

You don't have to run out and buy a jar. You can usually find one in your kitchen.
Many sauces, dips, jams, and other foods come in glass jars. Just thoroughly clean them and remove the labels. If you don't already save your glass jars, maybe now's a good time to start!
Mason jars are also available at your local supermarket or hardware store...often for less that $1 each.
Step 2: Fill the jar
Typically, jar gifts are filled with dry ingredients for a specific recipe. The recipient can then bake a fresh batch at home when the time is right.
It's convenient, easy, and soft cookies straight from the oven are oh-so-amazing!
You can fill your jar with dry ingredients for:
cookies
brownies
muffins
quickbread
cake
biscuits
cornbread
or just about any baked good you can think of!
The key here is dry ingredients.
Don't include wet ingredients such as eggs, milk, or butter. They can spoil easily and make you sick...not exactly the gift you're looking for!
Now, get creative!
Share your favorite recipes or find great recipes online. If you can find the ingredients in your own kitchen, you don't even have to go to the store!
Jar gifts don't have to be limited to baked goods. Consider the following ideas:
pudding mix
pancake mix
scone mix
blended fresh tea leaves
carmel popcorn
cinnamon sugar
hot chocolate mix
oatmeal mix with fruits and nuts
coffee mix
candy
encouraging messages written on scraps of paper (instructions: read one each morning)
For a fun presentation, add each ingredient separately, creating layers of different colors and textures.
It's easy to make multiple jar gifts at the same time. Just keep the jars next to each other and measure out the ingredients a few more times.
Tip: To make the ingredients longer, use a vacuum sealer to seal the jar lid. It doesn't preserve food like canning, but it does keep the contents fresher for longer. For easier lid removal, instruct your friend to unscrew the top and use a dish towel to pop the lid.
Step 3: Add a recipe card
Handwrite the recipe on a small card and attach it to the jar with a ribbon or a string. If you'd like, include a thoughtful note about the person, sharing food, or remembering times you baked cookies together.
Step 4 (optional): Decorate the jar
Let your imagination run wild! Decorate your jar with:
ribbon
paint
stickers
glitter
wrapping paper
crepe paper
tissue paper
doilies
glue on:
You could add a festive message, decorate in a creative theme, or just personalize it to the recipient's style and taste. Have fun...the sky's the limit!
Re-use!
Jar gifts are perfect for the clutter-concious person in your life. Once they've used the ingredients inside your jar gift, they can reuse the jar for: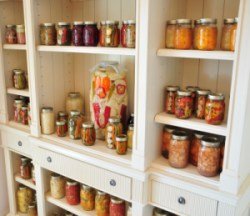 storing the cookies they make
canning foods
storing dried foods / bulk food
storing homemade mixes
more recipe in a jar gifts!
storing leftovers in the fridge
use as a measuring cup
store saved seeds
grow sprouts
drinking glass
homemade candles
store fresh milk or juice
store cotton balls
holding small toys / Legos
hold nails, screws, washers, etc.
hold ball of yarn while crocheting or knitting...drill a smooth hole through the lid and thread the yarn though
make sun tea
hold fresh flowers
candy holder
store spare change
store potpourri
pencil / pen holder
display jar for shells, pebbles, layered sand, etc.
fly trap - poke holes in the lid big enough for flies. Add equal parts of sugar, vinegar, and water to the jar.
As an added bonus, include the above list with your jar gift. Every penny counts these days, and they'll appreciate the useful suggestions.
Think outside the jar
Jars don't have to be the only gift vessel. You can easily construct gifts around a:
teacup
beer mug
measuring cup
pitcher
metal mixing bowl
Just use your imagination...find a useful household item that can hold things!
More Great Homemade Gift Ideas
After this article, you should be able to transform any jar into an amazing gift! But why stop there? Learn how to make even more great gifts - check out these creative homemade gift ideas.
Or, post a question about jar gifts and start a fun discussion that helps everyone.
Share Your Jar Gift Ideas
Do you have any jar gift ideas? Share them!

We welcome all submissions...from short descriptions to complete step-by-step instructions with pictures. Whatever you think will help other visitors!