How to Give Jewelry Gifts They'll Actually Wear!
Jewelry gifts are great for almost any occasion, but it's the thought that's most important. These tips will help you give thoughtful jewelry they'll be happy to wear.
Ah, jewelry. The go-to-gift! Close to every holiday, advertisers bombard you with the same message - "Don't even think about it, just buy them jewelry! They'll love it!"
Jewelry does make a good gift for almost any occasion, but it's the thought that's most important. What are you trying to say? Jewelry can say "remember our friendship" or "congratulations" or "I love you" as long as it's given in the right way.
For a man or a woman, jewelry comes in thousands of styles, materials, and price ranges. Knowing what to choose is challenging!
Everyone has their own tastes.  You don't want to spend tons of money on something they don't really want (but will probably wear once to make you feel better.)
Follow these tips for jewelry gifts they'll be happy to wear.
Just ask them to help you pick it out
Just ask them.
Say "I want to surprise you this year with a necklace, but want to make sure you like it and will wear it. Let's go to the jewelry store and pick out a necklace together."
If they pick it out:
your money will be well spent
they get exactly what they want
you have a fun shopping outing together
you don't waste 3 hours wondering if a necklace is too "grandma" or "teenager"
if they see something they really like but is too expensive, you can even usually find it cheaper online
Still think they'd want to be surprised?
Ask them. Tell them you read an awesome article online about picking out jewelry together, and ask them what they think.
Look at jewelry together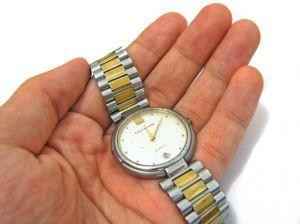 Next time you're in a mall or department store with your intended recipient, walk through the jewelry department together.
What do they stop and look at? What do they find appealing?
Suggest looking though jewelry catalogs and websites together. Either catch them when they're looking though their favorite catalog, or ask a question about a piece of jewelry online – spark a conversation!
Only pay what you can afford
Bottom line, only pay what you can afford. A gift's a gift. If it puts you both deep in jewelry debt, you're better off not buying it.
Jewelry can be costly. But keep in mind – not every jewelry gift has to be diamonds. As long as the recipient's not shallow, they'll appreciate something simple and attractive.
However, there's a fine line between frugal and cheap. Consider the amount you spend on entertainment or on purchases for yourself. The amount should be in line with these purchases…showing a significant sacrifice.
If you see a piece in the store that's too expensive, check online. You can often find the same or a similar model for a fraction of the price.
For New Boyfriends / Girlfriends
If this is for a relatively new boyfriend or girlfriend, don't break the bank. Expensive jewelry may scare them off – they may think you have an ulterior motive (marriage, physical relations, expectations of a similar gift, etc.)
A simple yet elegant piece of jewelry makes a great gift for a new boyfriend / girlfriend. Just keep the cost around $10 - 50. Less if you're in high school.
Investigate their wardrobe
What do they normally wear? What colors? Silver or gold? Do they wear:
Earrings
Watch
Bracelet
Necklace
Rings
Cufflinks / Brooch
What's their birthstone? What about their favorite color?
If you can, look through their jewelry. What styles do they own? Make a note of ring sizes while you're there.
Go look at jewelry together. Walk through the jewelry department and see what they look at. See what they find appealing.
If you give them something that matches their style, it shows that you pay attention to them. They'll also enjoy wearing it!
It's OK to give the same type of jewelry multiple times
So you've given them a bracelet, necklace, watch, earrings, and a ring...what now!?
Don't sweat it, another item like these works great.
For example, if you gave your girlfriend a necklace last Christmas, it's OK to give her another necklace for her birthday. Not only will it make her feel pretty, it'll also let her know she's not obligated to wear your jewelry gifts all the time. Just don't buy her a necklace every time! Girls need some variety!
Sometimes, it's better not to give jewelry
Some people no longer want jewelry gifts. They have jewelry, but it sits in a box and they never use it. Sure, it's shiny and pretty, but they'd rather spend their money on travel and enjoyment.
If you think this may be the case, ask them.
Don't give jewelry if you don't know a person very well. Jewelry is seen as a more personal gift. If you don't know them very well, you probably don't know their styles and preferences. A jewelry gift may seem a little strange, and they probably won't wear it.
Also, don't give your girlfriend a small piece of jewelry if she's expecting an engagement ring.
She's been longing for it…dying to know if this holiday will be the one. If you give her a small jewelry box, she'll be crying with tears of joy…only to be crying with tears of anger in a few seconds as she throws those lovely earrings in your face.
More Jewelry Gift Tips
Take advantage of our interactive community. Check out our gift reviews for feedback on jewelry given by others.
Or, search through our gift questions and answers for tips about jewelry gifts. If you don't find the answer you're looking for, please post a new question!
Share Your Jewelry Gift Advice
Do you have a useful jewelry gift tip to add to this page? We'd love to hear it! Please share your experiences using the form below and help other gift-givers.