Grill Gift Ideas that Sizzle!
They'll love these unique grill gift ideas, whether they're a "grill master" or an occasional burger flipper. This guide will show you how to give them a gift that sizzles with flavor!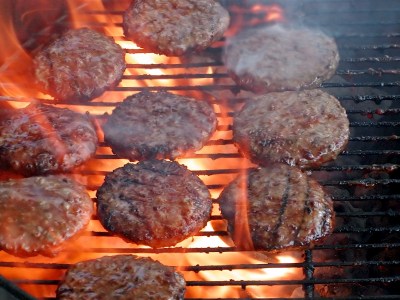 Check out these great grill gifts:
Add Smoke!
Smoke wood adds delicious earthy flavors to food.
For the charcoal griller, give smoke wood chunks. Wood chunks (as opposed to chips) burn more evenly and for a longer duration, so they won't have to soak them before use or keep on changing them during the cook.
For the propane griller, give a smoker box. It's just a metal box with holes in it. You spread a few wood chips inside, put it under your cooking grate, and voila! Add subtle smoke flavors to spice up any dish.
You don't have to run out and buy smoke wood. Any hard wood will do. Lighter fruit woods like apple and cherry are sweet and better for pork and fish. On the other hand, beef really benefits from more bitter woods like hickory and mesquite. One of the best all-around smoke woods is oak.
Just split a few logs and cut them into fist-sized chunks. Or, chip them if you have a chipper.
If you don't know where to get wood for free or cheap, you can almost always find smoke woods in the grill section at your local hardware store.
Rubs and Sauces
Grillers love to experiment with different rubs and sauces. Put together an assortment for them to try. Or, make your own rub / sauce, seal it in a jar, and attach instructions for use. Just don't be surprised when they call you a month later asking for the recipe!
If they have favorites, buy them more. Some sauces and rubs are regional and are only available through mail order. For example, if they grew up in Texas, Kansas, or Memphis, look online for the signature regional flavors flavor that will remind them of their childhood.
Food Prep / Storage
Looking for a gadget for the griller who has everything? Check out vacuum marinators. They greatly speed up the marinating process, taking minutes instead of days. Perfect for the griller who loves to marinate, but may be very busy and forgets to plan ahead.
Vacuum sealers also make a great gift. They can vacuum seal the leftovers and freeze them. Meats still taste fresh-off-the-grill months later! Many vacuum sealers also come with special containers that can be used for quick marinating.
Grill Tools
To make good BBQ, you need good tools. Do they already have the basics?
Oversized metal spatula with wooden handle
Wire brush
Oversized tongs
If so, consider these useful grill gifts:
Silicon bristle long-handled basting brush
Digital BBQ thermometer (for a step up, get one with a wireless receiver)
Grill rotisserie (often a factory add-on to their current grill)
Shish-ke-bab skewers
Rib rack
Vertical poultry stand
Corn holders
Sop mop
Grill basket
Charcoal Chimney Starter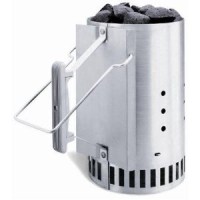 If they don't already have one, give them a charcoal chimney starter. For those that use charcoal, it's an absolute must.
It looks like a coffee can with a handle, and allows them to easily light a load of coals with just a match and some paper. This means no more spending money on lighter fluid. Lighter fluid can also end up giving the food a chemical flavor, so this gift will make all of their grilled dishes taste that much better!
Safety Equipment
Fire gloves are a must for the regular griller – especially if they use a smoker or a large grill. Buy longer gloves that cover the wrist and forearm as these often accidentally brush hot edges when reaching into the grill.
Also, although it may seem useful, don't give them a fire extinguisher. Unless you want to say "you're a lousy griller and you always burn the food", it's probably best left ungiven. Better to go with the spray bottle, which can douse flare-ups and double as a basting tool (apple juice, cider vinegar, etc.).
More Grill Gift Ideas
Hopefully you've got a few ideas for that griller on your list. For feedback on grill items given by others, look though our gift reviews.
Or, search through our gift questions and answers for more gift advice and tips. If you don't find the answer you're looking for, please post a new question!
Share Your Grill Gift Advice
Do you have a useful tip to add to this page? Have you given or received a great grill gift?

Please share your experiences and help others give better grill gifts!
What Other Visitors Have Said
Click below to see contributions from other visitors to this page...

Vacuum Marinator Not rated yet
I have a boyfriend that loves bbq -- he smokes meat all the time (and it's delicious!), imports bbq sauce and rubs from all over the US. You might call …