Give Corporate Christmas Gifts that Build Relationships
Learn how to give corporate Christmas gifts that enhance your business relationships. Avoid business gift blunders by following this simple guide.
Jump to: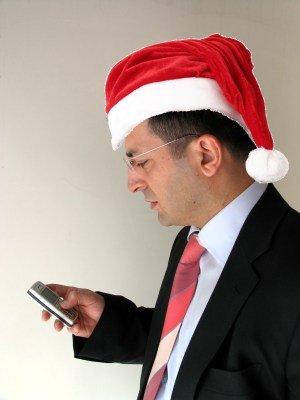 Why give corporate Christmas gifts?
Reasons to give include:
show your appreciation for help, hard work, support, or business
great icebreakers - promote public relations
inspire goodwill (beyond the holiday season)
add a personal touch to business relationships
enhance & reinforce client relationships
Who gets corporate Christmas gifts?
Short answer...everyone! This includes:
dedicated coworkers
reliable vendors
helpful business partners
valued customers
The gift doesn't have to be expensive. Handwritten cards work great!
What about gifts for the boss?
When it comes to your boss, ask your coworkers. What are they doing? Maybe you can pool together and give your boss a nice gift from the entire team.
No one giving the boss a gift? You probably shouldn't either. It may look like you're trying to win points. If you still want to give a gift, make it small and do it without attracting attention. Leave it on your boss' desk early in the morning or late at night with a note.
What should I give?
Your corporate Christmas gift should be:
simple and inexpensive (but not cheap)
professional, not personal (avoid jewelry, lingerie, clothing)
avoid gifts about sex, politics, or race...even in jest
NEVER give cash
Handwritten Cards - A handwritten card with a personal message of appreciation is hands-down the best corporate Christmas gift. Give them to anyone and everyone you can think of. They're easy, affordable, customizeable, and generally liked. For a personal touch, include a picture of yourself or your family.
Gift Certificates - particularly for services (spa, salon, barber, golf, restaurants, etc.) These can be bought in bulk online. Consider gift certificates to their favorite specialty store or even to the jewelry store for an employee's wife. Just place it in a thoughtful, handwritten card.
Microfinance Gift Card - for the executive who has everything, give the gift of giving! Microfinance organizations such as Kiva provide business loans to entrepreneurs in developing nations. They can finance a new venture and follow its progress.
Charity - invite them to do charity work for the community with you! Share the experience of giving to others. You can also invite their family to join, making it more memorable for everyone. This gift will really set you apart from the crowd, but remember not to be too pushy.
Indulgences - fine chocolate, wine, cheese, and gourmet goodies make great holiday treats! Consider putting together a gourmet food basket with either sweets or savory foods (oils, mustard, smoked salmon). As with all food gifts, be considerate of food sensitivities. Don't give vegetarians meat, and stay away from common food allergens like peanuts and wheat. Keep in mind that food gifts are also often shared among employees. Give a food basket to the entire team!
Homemade Treats - cookies, candies, and cupcakes go a long way - particularly during the holiday season. Just keep in mind not to give too many. Most people like a cookie, but won't like a full plate of cookies staring them down every time they go into the break room!
Crystal - never goes out of season and matches almost any decor. Give them a crystal punch bowl, candy jar, or tumbler set and they'll remember your thoughtfulness all year 'round.
Desk Items - clocks, pens, business card holders, letter openers, etc. These are classic business gifts and can be chosen to match office decorations, style, or taste. Adding a small, tasteful company logo is also a great way to promote your brand.
Give flowers selectively
Flowers are often associated with romance. For this reason, avoid giving flowers to your boss or coworkers. If you must give flowers, give a potted seasonal plant, bulbs, or a bamboo "money plant." They're more of a decoration than a gift, and a welcome addition to the home or workspace.
Know that offices often display flowers in common areas. It brightens up the work environment and spreads cheer. This allows you to give cut flowers to groups of people, in a non-romantic way that everyone can enjoy.
For example, if your support team works at desks next to each other, give one cut flower arrangement to the whole team. Thank them for their help and ask them to display the flowers where the team can enjoy them.
For an important customer or business partner, give their receptionist a floral arrangement. Tell them you want to brighten up their office because you appreciate their business and customer service.
They can display the flowers at the front desk for everyone to admire. If the company has multiple entrances, give an arrangement to each receptionist. It also gives you a reason to stop by, reinforce your relationship, and maybe bump into that decision maker you've been trying to get a hold of!
Respect corporate gift policies
Some companies only allow gifts valued at $25 or less. Others don't allow gifts at all.
To avoid an awkward situation, check with the HR department of the company involved.
If individual gifts aren't allowed:
Consider giving a food gift that can be divided among all the workers and shared.
Handwritten cards are always welcome!
Should I return a corporate gift?
Generally, no.
If your company has a policy against accepting gifts, politely explain the policy and return the gift. You can call the giver, thank them, and perhaps suggest splitting lunch instead. If this is a particularly important business associate, you may want to check with management first.
If there's no written policy, don't return it. You may offend the giver. If you really don't want it, you can always regift!
Only turn down a gift if you feel it pressures your business relationship. If the gift is particularly expensive or it feels like there are "strings attached," don't risk it.
There's a fine line between expensive gifts and bribes. Politely return it, thanking them, but explaining you can't accept something so expensive...you can cite a company policy as an excuse. After all, I'm sure your company's policy is to NOT accept anything that could be considered a bribe.
Should I give a religious corporate Christmas gift?
In these days of political correctness, it's easy for us to shy away from anything religious for fear of offending someone.
Your business recipient may not celebrate Christmas. If you are unsure, don't give:
Christmas ornaments
Nativity pieces
Advent calendars
etc.
However, don't shy away from sharing your message. Go ahead - wish them a "Merry Christmas" in your card.
They'll respect your beliefs and strength of character. After all, religious tolerance is about respecting diverse beliefs, not about hiding your own for fear of offending someone.
Share Your Corporate Christmas Gift Advice
Do you have a useful tip to add to this page? Have you given or received a great corporate Christmas gift?

Please share your experiences and help others give better wedding gifts!