Gifts for Dad | How to Give Thoughtful, Creative, Memorable Gifts

Is your dad hard to shop for? Learn how to choose gifts for dad that will create memories and make him smile.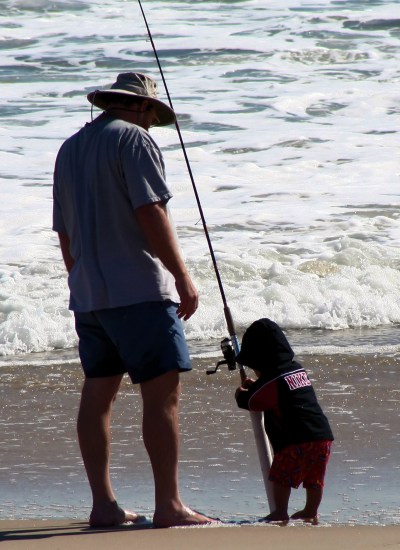 Jump to:
Spend Time with Dad
The best gifts for Dad are ones that involve spending more time together.
Give the Gift of You
The best and most meaningful thing you can give your dad is the gift of
you
.
Visit him. Spend time with him.
Send a handwritten letter. If you can't be there in person, send him a nice handwritten letter. It doesn't have to be long, just thoughtful and appreciative. He'll like it even more if you include a few pictures and update him on your life.
Give him a long phone call. Touch base and see what he's doing for fun. Ask about his day and the weather. Ask about the family news.
For the active father, plan an activity
Organize a time to blow off some steam together. You can even include the rest of the family. Consider taking dad for a:
Long nature walk
Family bike ride (if you can get all the bikes fixed up in time)
Game of basketball in the front driveway
For the more active dad, sign up for a 5K or 10K race together. This is a great gift because you can spend time training together, as well as cheer each other on when race day comes.
Dinner with Dad
Dads love food! Plan his favorite meal and dessert, and serve it with the whole family.
For a thoughtful touch, set out a paper placemat. Before Dad gets there, have everyone sign it and add a special message. He'll be reminded of your thoughts through the whole meal.
Progressive Dinner with Dad
Here's a fun twist on a dinner party for Dad. In a progressive dinner, you eat each course at a different house!
It's a special treat for Dad because he gets to spend time with everyone. Plus, it splits up the cost of the party. This is perfect for Father's Day because you can include other dads who live close by.
Here's how:
Get together with 3 or 4 friends or relatives who live close by. Plan a meal where each person prepares 1 course. Tip: prepare something that keeps easily.
On the day of the party, everyone meets at the first house, eats, and moves on to the next house – spending about 45 minutes to an hour at each house.
This works best when everyone lives in the same neighborhood, condo complex, or apartment building. That way, you can walk between places and digest! If you must drive between locations, designate drivers at the beginning of the evening.
Event Tickets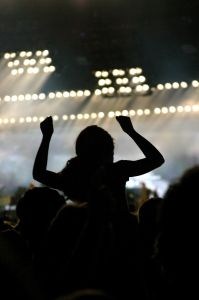 Especially if you attend the event with him, event tickets are a wonderful gift for Dad. Pick something you both have in common and would enjoy. This could include:
Music Concerts
Musical / Theater Production
Sports Events
Car / Boat / Motorcycle Shows
Comedy Shows
And don't forget the events happening every day, like:
Movies
Museums
Brewery Tours
Share Memories
The best gifts are the ones that make memories. These tips will help you pick a great gift for Dad that connects with his sentimental side.
Give Photos and Shared Memories
Here's a great free gift that will touch Dad's heart.
Bring out some old, funny photos of Dad, Mom, and the family. Pass them around and ask your dad to share the stories that go along with each photo.
The memories will make him laugh and smile, and may even bring a tear to his eye. You'll also get to bond with your dad by listening to his stories.
To dress up this gift:
organize old pictures into a photo album
scan and add the pictures to a thumb drive or digital photo frame
make a fun photo collage
frame and wrap the pictures
Take a new photo!
Don't forget to add to his collection of memories. Take plenty of pictures to remember the day. This is a great gift during the holidays, since more family is often together.
Or, consider getting a photo professionally taken.
Gift from His College
Is he proud of his college? Did he meet your mother there?
Go ahead – let him reminisce about his college years! College gifts for Dad are a great choice. Give him a college:
cap
golf towel
mug
polo shirt
beer cozy
decoration
Give Practical Gifts
Dad will appreciate gifts he can use that won't clutter up the house. It saves him money and time, and he'll think of you when he uses them.
Great practical gifts for Dad include:
Carwash
Gas card
Oil change
Lawn treatment
New wallet
Round of golf, golf lessons, bucket of balls at driving range
Round at batting cages
Replace an old tool, wheelbarrow, etc.
Fishing license
Donate to a Cause He Supports
Instead of scrambling around for another gadget or necktie, give Dad a gift that helps others.
If you make a donation to a cause he supports, it shows that you care about his values. He'll also find comfort in your good-hearted gesture (he raised you well!).
Particularly in these hard economic times, gifts that help others make every penny count.
More Gift Ideas for Dad
Don't forget - your dad is "one of the guys" too! Check out these great gift ideas for men.
Also, take advantage of our interactive community. Read our gift reviews for feedback on more gifts for Dad.
Or, search through our gift questions and answers for more gift tips and help. If you don't find the answer you're looking for, please post a new question!
Share Your Advice – Gifts for Dad
Do you have a useful tip to add to this page? Have you given or received a great gift?

Please share your experiences and help others give better gifts to the fathers in their lives!